Our 2017 Recital Information:
Our 2017 annual recital will be held at Walled Lake Northern High School
located at 6000 Bogie Lake Road, Commerce Township, MI 48382
Saturday, June 17, 2017

Are you stressing over how to do the bun for recital??
The Art Of Dance Parent Group will take all your stress away!!! Let some of our "seasoned" moms do it for you. Please click on the link below to make your reservation. Spots are limited.
http://www.signupgenius.com/go/30e0548aaae29a20-commerce

Costume & Tight Information 
 Tights are included in your costume fee.
Pre-School & Level 1 & Level 1/2 Costume Fees – $75
Level 2 – $85
Level 3/4 Costume Fees – $85
All costume fees must be paid in full by November 1st.
ALL COSTUMES ARE NON-REFUNDABLE! 
Recital Information
Each dance season will be concluded with an exciting recital that includes all registered/performing dancers. This is USUALLY the second weekend in June. We do our best to to meet our clients needs; however, we cannot guarantee siblings or friends in the same shows. All dancers are required to perform in our finale and dress rehearsal is mandatory.
Dress Rehearsal
Dress Rehearsals will take place at Walled Lake Northern High School the weekdays prior to the recitals. Dancers are required to attend ALL dress rehearsals they are scheduled for. We try to limit our dress rehearsals; however, there is always the possibility that your dancer will have to attend more than 2. If a dancer misses a scheduled dance at dress rehearsal, they will not be permitted to perform that dance in recital. In the event of extenuating circumstances, it will be at the discretion of the studio director whether or not the child will be permitted to perform.  We try to have our dress rehearsal schedules released by the end of March.
 TICKET POLICIES:
Every guest must purchase a recital ticket expect children 2 and under may sit in a lap. No dancer will be allowed to enter the auditorium to watch the show without a cover-up and a ticket. Only dancers in 2 or less dances are permitted to watch the show. When entering and exiting the auditorium please make sure to have your ticket on you, you will need your ticket for re entry.  Tickets are non-refundable and seats may not be exchanged. Please check your performance dates and time carefully prior to ordering.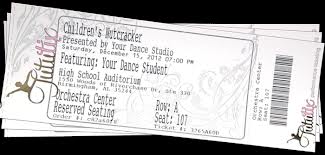 Tickets go on sale April 1 at 9am
Go to www.tututix.com to purchase tickets
Search: The Art of Dance
or call Tututix directly at 855-222-2TIX (2849)
email: info@tututix.com